The previous episode of Welcome to Eden ended with Nico bringing Zoa to the underground cave where Judith's body was hidden
Welcome to Eden or  Bienvenidos a Edén is a thriller series created by Joaquín Górriz and Guillermo López Sánchez. The story follows the main character, Zoa (Amaia Aberasturi) and four others, Aldo (Albert Baró), África (Belinda Peregrín), Charly (Tomás Aguilera) and Ibón, who are invited to an exclusive party in a hidden island called Eden. 
Streaming on Netflix
Welcome to Eden- Episode 5 Summary & Recap
Zoa was devastated over what she saw and Nico told her that they have to outsmart the people in Eden now that they know this information. Zoa then found a screwdriver under her bed and carved the bed frame with "Judith forever" next to the "C + F" carving. She did not mourn for long and tried to tell people she trust. However, when she was about to tell África, they were interrupted by Erick and therefore, Zoa turned to Ibón. 
At night, there was an emergency due to a storm and everyone was asked to gather at Module 1. Charly was injured from an electric explosion and was injected with painkillers. Zoa used the commotion as an opportunity to bring Ibón to the underground cave, but Judith was no longer there. She was so puzzled and told Ibón that Judith was in a boat and everything. Then, Ibón noticed that Zoa is describing the Patinir painting. He therefore theorized that someone wanted Zoa to find out about Judith's body and purposefully lay Judith in such manner. 
When they got back, Alma was suspicious of Ibón supposedly taking a walk with Zoa, while Zoa told Nico she went to the cave with Ibón and could not find the body. Nico warned Zoa not to trust Ibón because he was planning on staying in Eden.
In San Sebastian, Gabi met up with David. David told her that Zoa was left on the island but the staff assured him that there are other staff that would take her back. He also told her how the party was to promote the Blue Eden drink, but Gabi found it odd that they did not know the location of the island nor can she find anything about Blue Eden on the internet. However, it then hit Gabi that she could retrace her sister's steps and get invited to the event. As a first step, she went to a hairdresser and have her hair cut like Zoa's.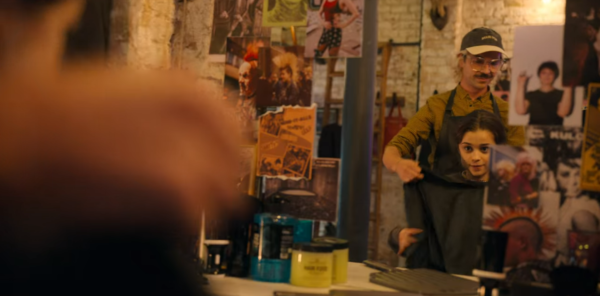 Bel went to see Astrid and got permission from Astrid to watch over Zoa as she is worried about Zoa's "rebellious behaviour". After that, she found some time with Zoa alone and told her not to trust Nico because Nico is her "link". Links are supposed to be the person that keeps the newcomers on the island. Zoa confronted Nico about it but refused to tell him where she heard the term "link" from. A panic Nico then rushed to Astrid and Ulises to inform them that Zoa found out about the term. It was revealed that Astrid was the one who asked Nico to show Zoa Judith's body, but it did not scare Zoa, and just made her ask more questions. Therefore, Astrid asked Ulises to bring Zoa to her.
At Astrid's place, Zoa was reprimanded for not taking the chances Astrid offered her. When Zoa asked Astrid and Erick about Judith, they blamed her for breaching the initial contract. Finally, Astrid ordered to have Zoa killed by the device used to kill Aldo. Brenda was placing the device on Zoa's head when Zoa noticed the severity of the situation and promised to dedicate her life to Eden and to be given another chance. She then lied that she heard the term "link" from Aldo. Fortunately, Astrid believed her sincerity and gave Zoa one last chance. When Zoa left the place, Nico hugged her and told her that he was worried about what they might do, but Zoa was stoic.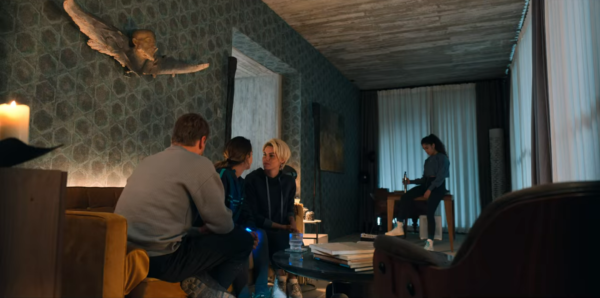 When they got back to Module 1, Zoa angrily confronted Nico that he knew all along that Judith was killed. Frustrated, Nico angrily told her that no one cares about Judith and that she should forget about it.
Seeing how close Erick and África were getting, Astrid got uncomfortable and asked Erick to start treating África like everyone else. Therefore, Erick requested that África go down and sleep in Module 1 just like the rest of the Eden residents. África was upset about it and asked why. As a response, Erick explained that only level 3 residents can stay at their place and África is still at level 1. She can only earn these "badges" after she proved herself useful to Astrid and Erick. África, visibly unhappy, then joined everyone else in Module 1.
On the other side of Eden, Mayka visited Charly at the clinic and the two flirted a bit before Mayka brought Charly back to her place. The two had sex and spent the night together.
In the middle of the night, when everyone was asleep, Ibón sneaked out as he was still curious about Judith's body. He was not tracked by the drone as Mayka was with Charly. Ibón eventually found Judith's body in a boat heading towards the sea. Ibón screamed now that he knows something is wrong as Judith's body caught fire from the torch at the edge of the boat.
Meanwhile, Zoa tried to kill Nico with the screwdriver she found earlier but was stopped by Claudia and this was witnessed by Alma.
Additional Observations From Episode 5
Judith's arm was smeared with blue powder before she was killed by Brenda with the same device used to kill Aldo
 At one point, Erick told Astrid he visited Isaac and Isaac can't wait for what's to come. The identity of this person named Isaac is still unknown.
Erick and Astrid have been together for fifteen years.