Last episode, Zoa grew closer to Bel, but was still adamant on escaping Eden. On the other hand, Erick was attacked by an anonymous person and so, Astrid sent him to a little boy called Isaac.
Welcome to Eden or  Bienvenidos a Edén is a thriller series created by Joaquín Górriz and Guillermo López Sánchez. The story follows the main character, Zoa (Amaia Aberasturi) and four others, Aldo (Albert Baró), África (Belinda Peregrín), Charly (Tomás Aguilera) and Ibón, who are invited to an exclusive party in a hidden island called Eden. 
Streaming on Netflix
Welcome to Eden- Episode 8 Summary & Recap
The committee of Level 2 and 3s sat down to make plans for the next festival. Astrid told everyone Erick was under the weather, but Mayka saw a few drops of blood outside Astrid's house. Mayka confirmed that a special "VIP" was invited. Alma suggested that Ibón had more potential and should be assigned to help Ulises instead of helping Orson at sound check. Seeing how Alma was still attached to Ibón, Astrid advised that Alma move on from Ibón because she already got her second star. But Orson was kind enough to let Alma have her way and sent Ibón to security.
Back at their module, Alma told Ibón the great news of him helping Ulises at the festival. Ibón was shocked that the newcomers have to help at all, to which Alma replied that all newcomers, including Zoa and Charly would have to contribute. Alma also seemed to harbor actual feelings for Ibón as she wished that he can climb up Level 2 so that they can be together.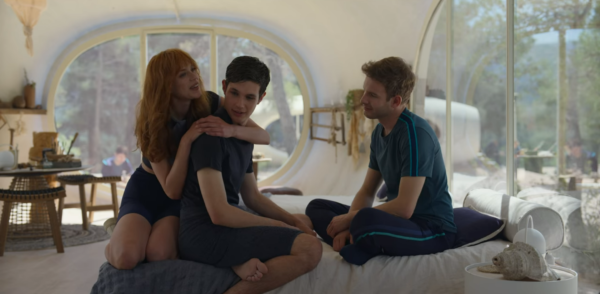 That same morning, Nico took Zoa away for a private chat and told her that he hasn't forgotten his promise to get her out of Eden. But this time, Zoa did not trust him anymore and told him that Bel had showed her the way and she now wants to stay. Nico did not believe that and told Zoa that he knew she still loved him. Meanwhile, Charly thanked Mayka for everything and finding the conversation like a goodbye talk, Mayka got suspicious that Charly has plans to escape. She then warned Charly that he will be dead if he escaped, but Charly seemed adamant. They were interrupted Ulises who brought Charly to a newcomer brief.
During the brief, Ulises assigned everyone their task at the festival except for África who was asked to stay at camp. Zoa and Charly were shocked and devastated because that would mean someone would keep an eye on them and they cannot escape. Meanwhile, África is angry for being sidelined and confronted Astrid, but Astrid brushed it off as committee decision.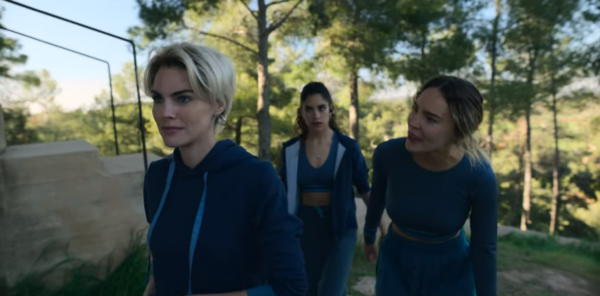 Upset that her escape plans had been ruined, Zoa stole a buggy and drove to the beach. This alerted Nico and Brenda who were worried she was trying to escape. However, Bel arrived at the beach first and calmed Zoa by promising to help her. When Nico and Brenda arrived, they saw Zoa and Bel making out on the beach and the sight hurt Nico. Later on, Nico and Bel engaged in a fight over Zoa and both got hurt.
Isaac is the little boy Zoa saw on Episode 2 and seemed to lived with a caretaker named Nurin. Isaac had what seem like scars on the right side of his forehead. When Erick was sent to him the night before, Isaac was the one who operated on Erick and stitched his wound. Later next morning, Astrid came to visit and Isaac asked her when they could leave the place, to which Astrid replied "soon".
Private investigator Brisa used her skills to find the chip located in the wristband and found the location tracking the chip, which revealed the location of Eden. She then took her gun and drove towards the secret island. She eventually reached an empty beach.
In the morning, the next festival began. New recruits came in boats and they were greeted by the residents of Eden. Feeling left out, África went to Astrid and Erick's house to look for Erick but no one replied. She then found Ulises's card which the attacker tossed away. Without hesitation, África used it to go into the house but she failed to find Erick. Instead, she discovered a secret lift behind the Patinir replica painting and took it to a room with a lot of technical devices. She saw the control panel and clicked the "open" button, but the whole system then started going off saying "Sending signal to outer space" and the lift that took África up closed automatically, leaving her stranded. Isaac got the warning about "sending signal to outer space" too and the satellite antenna near him started moving.
Meanwhile, Eloy, Bel and Eva helped create an electric chaos at the festival allowing Charly and Zoa to escape. Charly went off first and managed to swim to the boat. Mayka's drone caught him but Charly signaled to her to keep it a secret. Mayka was left heartbroken and cried, but did not report him.
Zoa went to the beach later, but as she was prepared to swim to the boat, Ulises caught her and started hitting her. Fortunately, Ibón arrived to help fight off Ulises but during the fight, Ibón accidentally drowned and killed Ulises. As Zoa and Ibón stood there, not sure of what to do with the body, Eloy arrived. He asked Zoa to go to the boat while he dragged the body away into the sea. Zoa thanked him and started swimming while Ibón was left shaken. Unfortunately, when Zoa was near the boat, she caught sight of a festival participant getting off the boat. That person is her sister, Gabi.
Additional Observations From Episode 8
David was killed by the man who took the festival participants on the boat. The man also seemed to be in a somewhat open relationship with Brenda. Before David died, he revealed to the man that he passed his wristband to Gabi.